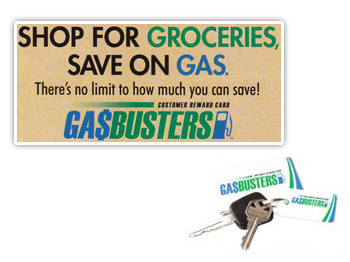 WHAT YOU NEED TO KNOW ABOUT GASBUSTER DISCOUNTS
EVERY TIME YOU SPEND $50 YOU WILL EARN A 10 CENT PER GALLON DISCOUNT ON A GAS PURCHASE. THE MORE YOU SHOP THE MORE YOU CAN SAVE, THERE IS NO LIMIT!
HERE'S HOW IT WORKS:
COME IN TO REGISTER FOR YOUR FREE GASBUSTER CARD.SHOP FOR GROCERIES AND GET YOUR CARD SCANNED EACH TIME YOU MAKE A PURCHASE.
YOU DON'T HAVE TO KEEP TRACK OF ANYTHING-WE DO IT FOR YOU. AND THE PROGRAM IS CUMULATIVE,SO YOU DON'T HAVE TO SPEND $50 ALL IN ONE TRIP.JUST SCAN YOUR GASBUSTER CARD AT THE IN-STORE GASBUSTER CENTER AND YOU CAN CHECK YOUR EARNED CREDITS,DISCOUNT TOTALS AND EXPIRATION DATES.
NOW OFFERING REWARDS ON INDIVIDUAL ITEMS ALSO
ON EACH PACKAGE BOUGHT IN ADDITION TO THE $50 DISCOUNT.
WHEN YOU'VE EARNED YOUR GASBUSTER DISCOUNT, SIMPLY INSERT YOUR CARD AT THE PUMP AND SAVE 10 CENTS OR MORE PER GALLON.
REWARDS EXPIRE 60 DAYS FROM ISSUED DATE.
DISCOUNTED FUEL CANNOT EXCEED 15 GALLONS. ONLY ONE VEHICLE PER TRANSACTION. DISCOUNTS CAN ONLY BE USED IN ONE TRANSACTION,IF FULL 15 GALLONS IS NOT PUMPED IT DOES NOT CARRY OVER TO ANOTHER TRANSACTION. DISCOUNTS ABOVE THE PRICE PER GALLON WILL BE SAVED ON YOUR GASBUSTER CARD FOR FUTURE USE.
SOME PURCHASES ARE EXCLUDED: TOBACCO,FUEL,MILK,LOTTERY AND GIFT CARDS.
TO SIGN UP: PRINT GASBUSTER APPLICATION FORM, FILL IT OUT AND BRING TO STORE FOR YOUR FREE CARD.
| | | | |
| --- | --- | --- | --- |
| | We Offer Premium Sunoco Branded Gasoline and Gift Cards | | |
| | | | |